References
Please take a moment and look back on selected projects in the past.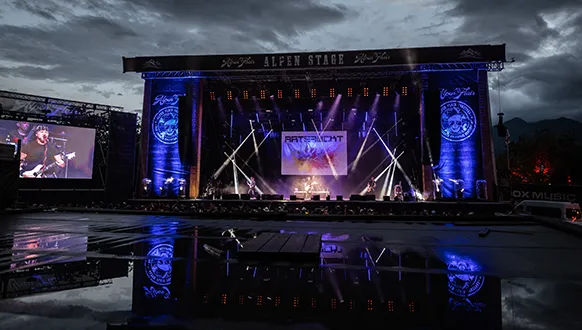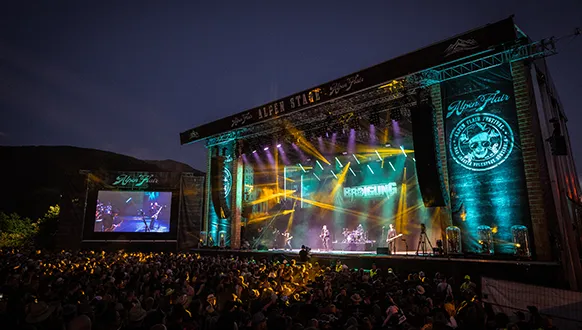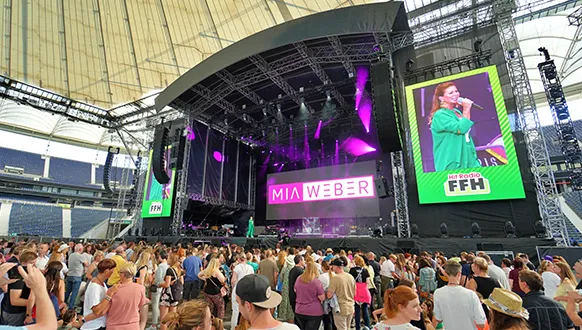 Deutsche Bank Park Open Air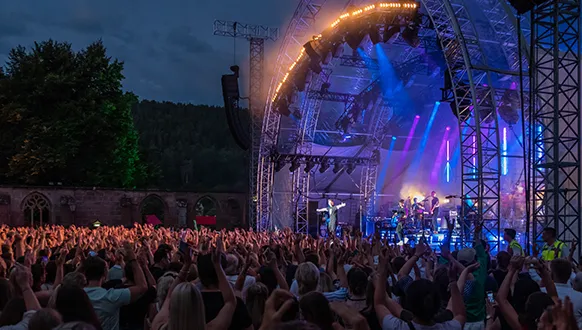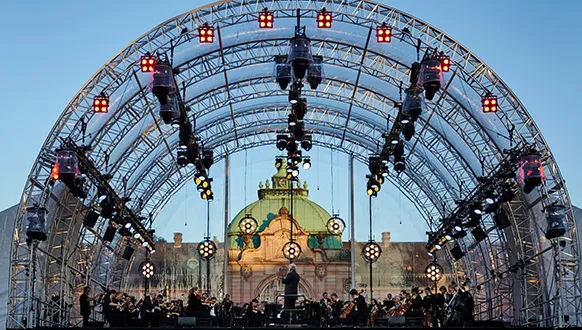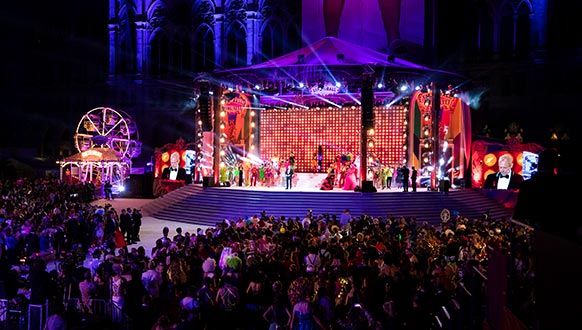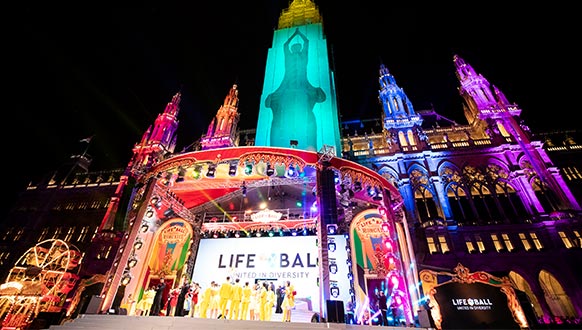 Life Ball
For this exciting project, we focused on imitating the world-famous Roncalli big top, along with its extravagant style and above all charm. This roof structure was implemented on behalf of Stageco Deutschland GmbH.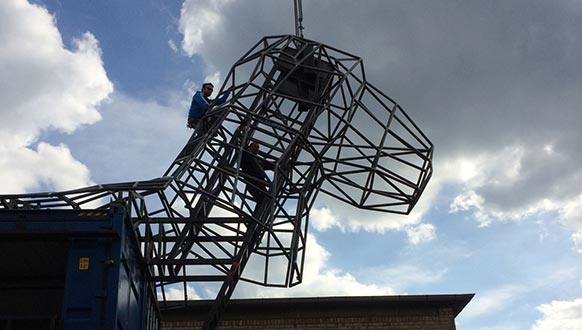 Jägermeister Stag
As well as representing Jägermeister in the form of a road show, this majestic bespoke design also accommodated a popular VIP area offering sensational views over a multitude of open-air events, including the Rock am Ring festival.
The Jägermeister Stag, comprising a combination of filigree detail and usability, presented a welcome challenge for us. 
We supported Stageco Deutschland GmbH in implementing this project.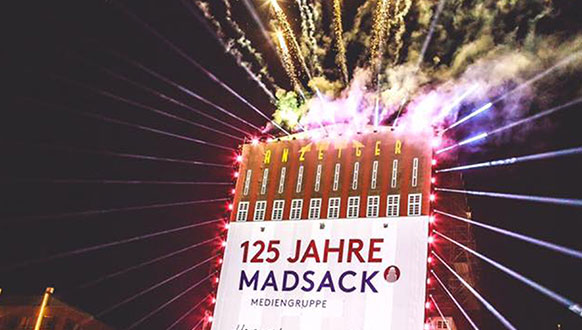 125 Years Madsack Media Group
What matters most to us in all our projects is that we implement the wishes of our clients down to the last detail. Our wide-ranging repertoire enables us to present all manner of solutions.
In this case, it was a bespoke stage construction, a tower for the front projection onto the building behind the stage, and other ancillary structures such as spot and delay towers.
Porsche Panamera dealership launch
This was all about installing a structure inside a gasometer as a canopy for a dining area at the dealership launch of the Porsche Panamera in Leipzig.
Our heavy-duty motors allowed infinitely variable movement of the 20-tonne canopy, which was ultimately raised to a height of 20 metres above the audience.
This was no mean feat in terms of the statics, since the outer construct and the mobile canopy in the middle had to withstand enormous dynamic forces.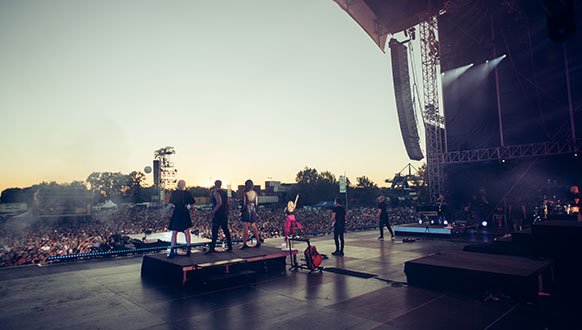 Daimler incentive concert
We also offer full solutions for your big-stage event.                 Simply browse through our product range for suitable structures, from delay towers to the stage itself.
Take this CPR stage, for example. It was used at a concert that Daimler's Wörth plant organized for its staff featuring Helene Fischer as the star guest.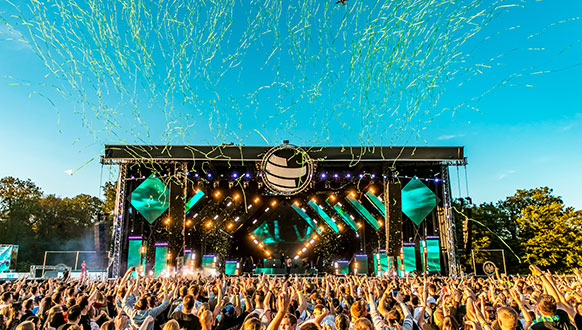 World Club Dome
Technology plays a vital part in today's concerts:
but huge light shows and perfect sound are only possible if the stage offers enough space for the additional equipment, and if there is sufficient rigging capacity to support it.
We provide the right system for your event, whatever its scale, like the CPG stage you see here.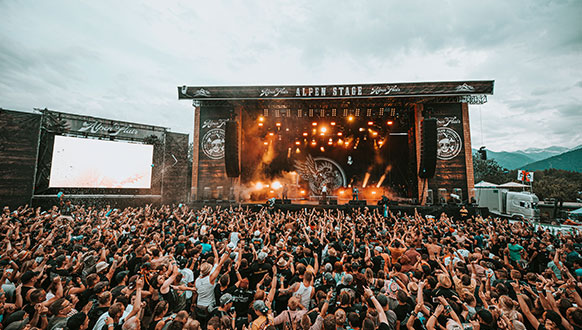 Alpen Flair Festival
The tower and wings of our CPG stage were kitted out with an impressive rustic cladding. The specifics of the venue meant we were unable to erect a standard-size stage.
Instead, we adapted its dimensions to the site conditions, narrowing down the entire structure while guaranteeing enough room for the performers and their crews despite the confined space.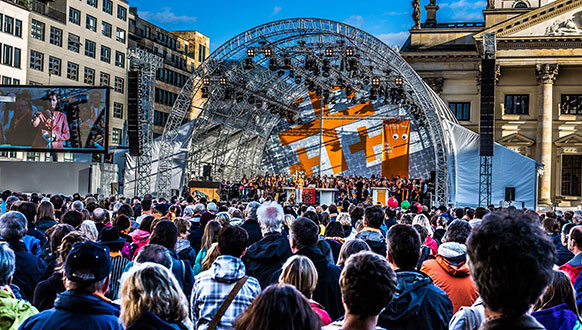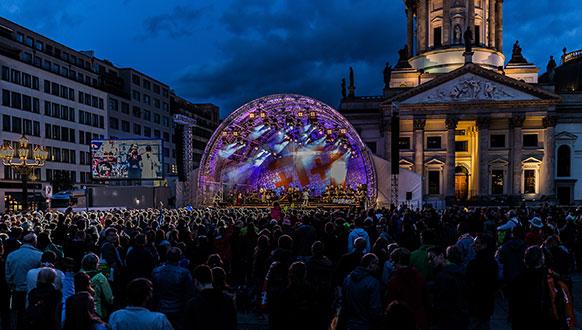 German protestant church day
Our CPRB stage system with its modern design makes an extremely vivid impression.
The main highlight is the structure's lightness thanks to its transparent canopies – favoured for classical concerts with orchestra.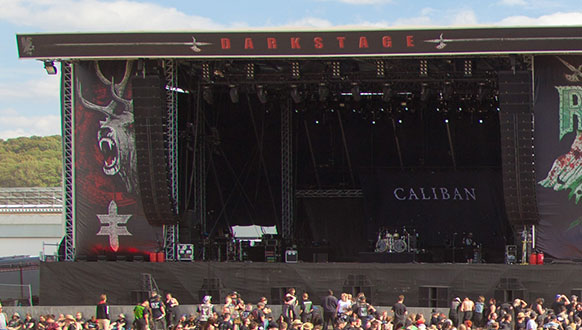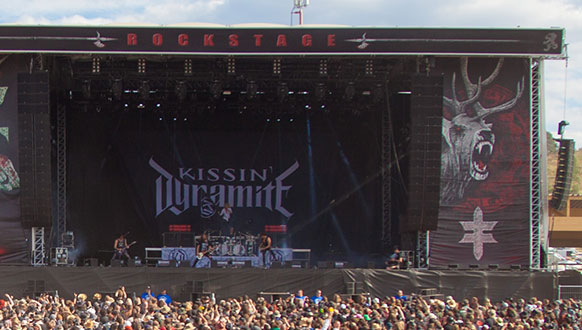 Rockharz Festival
The Rockharz Festival is an especially exciting project for us.
The task at hand was to combine two stages from our standard range into a bespoke double-stage structure.
Thanks to an extended back storage zone running end to end, this construction provided enough stage area to guarantee even faster technical changeovers between bands.